Britannia Wharf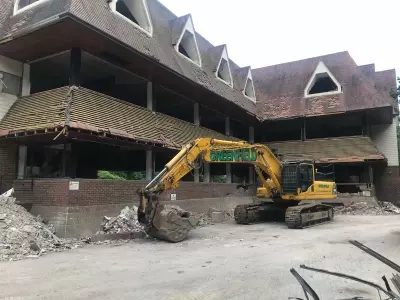 Client:
Deepwood Properties
Site:
Britannia Wharf, Monument Way, Woking
Our Role:
Greenfield Demolition was awarded the demolition package by Deepwood Properties to act as Principal Contractor. This was our first project for Deepwood.
Our Scope:
R + D Survey
Remove fly-tipped waste
Asbestos Removal
Soft Strip
Demolition down to basement level
Remove all arising from site
This was a prestigious project for Greenfield. A four storey 2,500m2 footprint building with a basement for underground parking.
The building was situated adjacent the Saturn Trail canal which bounded the southern boundary and Horsell Common Conservation Park bounded the others.
Our first operation was to remove the fly-tipped waste from site which was left by people whom broke into the site prior to commencement of the works. We undertook this work throughout the day to keep cost down for the client. A soft strip was carried out in unison by another team to ensure the program was not affected.
The buildings interceptors were turned off when the offices were closed and this led to flooding in the basement. Greenfield worked closely with Deepwood to pump out and dispose of the excess water.
Greenfield managed to recycle 99.6% of all waste arising.