Heathermount School, Ascot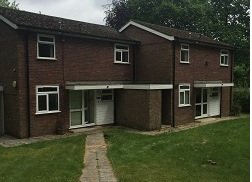 Overview:
Greenfield Demolition were awarded the demolition works at Heathermount School by Beard Guildford to demolish a caretakers shed, two houses and removal of a slab. This job is to be completed over two phases
Our Scope:
Asbestos Removal
Demolition of Buildings
Remove Slab and Foundations
Remove all arisings from site
The first phase Greenfield was employed to demolish the caretakers workshop and break out and remove the slab where a former building was situated.
The second phase consisted of the demolition of the two houses. This phase also consisted of removal of notifiable asbestos, slab and foundation removal and clear all materials from site.
Challenges
The biggest challenge on this project was during the first phase where the school remained live.
During the second phase the program was one week to enable the project being completed before the start of school.
Solutions
Greenfield Demolition worked closely with Beard and had a safe system procedure. All site personnel were to stop works immediately if a pupil was to enter the site. A school official would escort the pupil off site and then work would continue